About Stylwise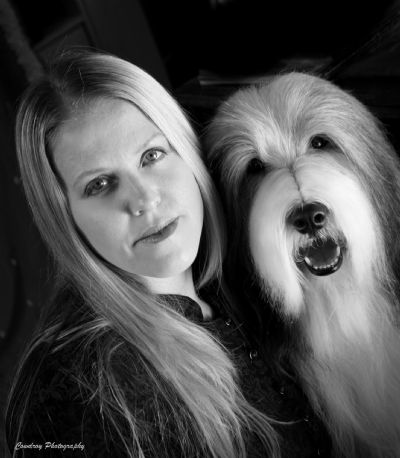 As the third generation in a very dog orientated family, I've been showing dogs since I could walk. I've represented my State in Junior Showmanship and grew up handling anything from a Mastiff, to my Mother's English Cockers and even a Beardie or two on the odd occasion.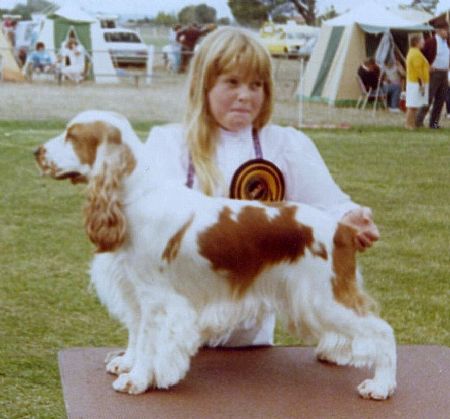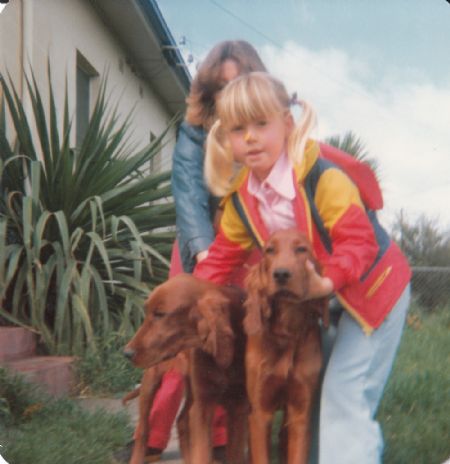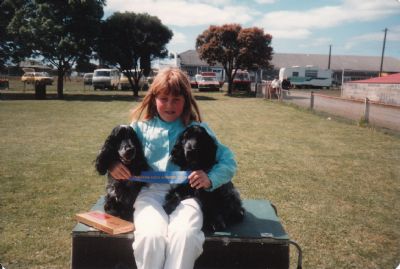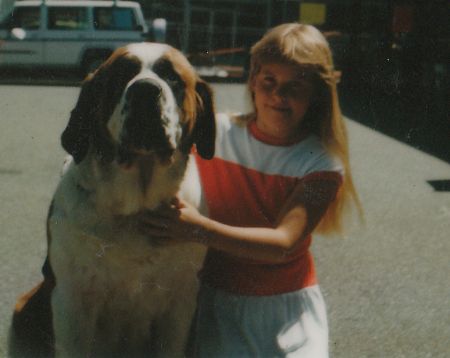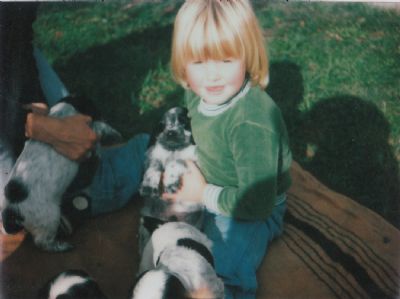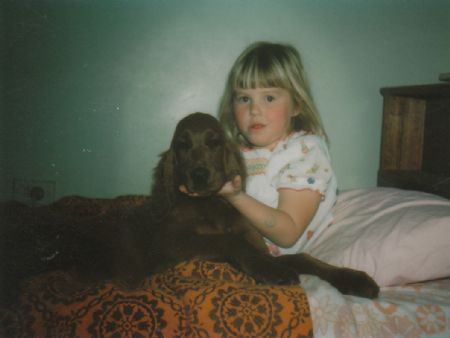 The first dog I owned in my own name was Greyhound bitch, Ch Dansn Phanfare. Georgia titled easily but didn't really enjoy the show ring.
I really fell in love with Bearded Collies after a stint in the USA with Mark and Lisa Bettis in 1994 and 1995. Mark & Lisa campaigned Ch Diotima Bear Necessity (HC) - the # 1 Bearded Collie in the States at the time. Andrew had the typical Beardie bounce and was one of the many Beardies during this time that convinced me this was the breed I had to have.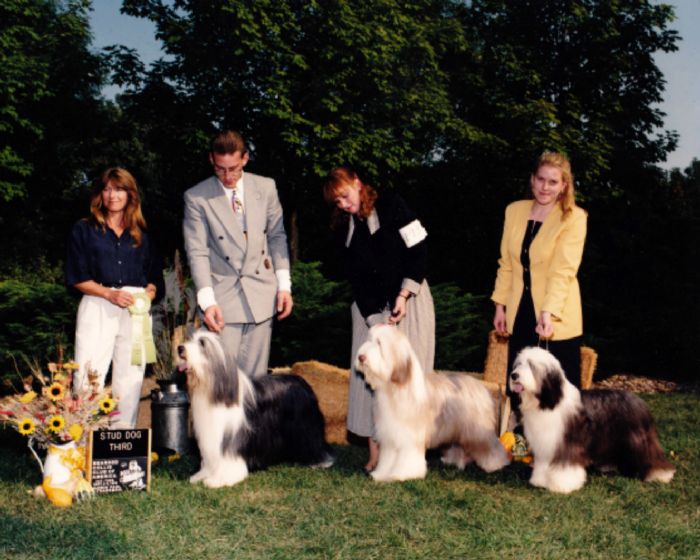 Within a few months of returning home I had my first Beardie, Ch Burnhardt Logans Mark HIC ET. Given to me as an early 21st Birthday present, I can easily say that Jake was the best gift I've ever received. Jake went on to be a Best in Show, multi-Royal Show Best of Breed winner and a fabulous producer of All Breeds & Specialty Best in Show winning Grand and Supreme Champions.
In between Jake's arrival and the next Beardie invasion, Georgia had a litter and Ch Jonz Now I Can Dance came to stay. C.K. titled quickly and accumulated many in group awards and Royal Show Best of Breeds.
Just for something different, during this time I also campaigned a Wire Fox Terrier, Ch Chaduna Heads I Win. Eddie was great fun to show and titled very easily. Unfortunately he was not compatible with the Beardies so he retired to the Gold Coast to live a life of leisure.
The next two Beardies to arrive were a young bitch, Ch Briarmist Good Heavens, Rhumba, and a young dog, Gr Ch Briarmist Glenfiddich, Riot. Riot is a Best in Show winner at All Breeds & Specialty level as well as being my first Grand Champion and Rhumba has produced two lovely litters for Stylwise. These beautiful kids came from Jim and Lyndall Black of Briarmist Kennels, Yass, New South Wales. My thanks go to Jim & Lyndall for their friendship & support and for entrusting me with not only Rhumba & Riot but also other Briarmist Beardies over the years.
In November 2004, Rhumba and Jake produced my first Bearded Collie litter under the Stylwise prefix. From this litter, I kept a bitch, Ch Stylwise Airs N Graces, Kaos and a dog, Gr Ch Stylwise Paparazzi, Flash. Farly, Ch Stylwise Style File, went to live with my good friends Sally and Reg Pearce. These three are now Australian Champions with Flash, being an All Breeds Best in Show winner, Multiple Specialty R/U in Show winner and the first Stylwise Grand Champion.
Late in 2007, Pam & Colin Douglas of Llanddona Kennels in New Zealand, kindly sent an adult bitch, Gr Ch & NZ Ch Llanddona Rebekah, Reba, to play at Stylwise. Reba won multiple Best in Shows at both All Breeds & Specialty shows and gained her Australian Champion title very easily. Reba also gained her Grand Champion title in less than two years of showing. Many thanks to Pam & Colin for sending Reba over to play at Stylwise.
In January 2008, Rhumba & Rummy, Ch Oakcrest Rum Rebellion, produced the second litter for Stylwise. From this litter I have a brown bitch, Ch Stylwise Mojito HIC, Mojo who is my fourth home bred champion and has Best in Show and R/U Best in Show Specialty wins to her name. Her brother Tux stayed in Canberra with his new parents Lucy & Dave and has titles in agility and jumping and is known as Stylwise Magnum AD JDX SD SPD.

In December 2009, Reba & Jake produced the third Stylwise litter of four bitches and two dogs. Although Reba has now returned to New Zealand, her daughters Dizzee & Simmer, Sup Ch Stylwise Dizzee Rascal HT & Sup Ch Stylwise Simple Plan and son Jimmy, Ch Stylwise Jimmy Eat World HT are consistently winning at shows. All three are now Australian Champions with Dizzee and Jimmy also gaining their first herding titles. Simmer was our second home bred All Breeds Best in Show winner and Dizzee won her first Specialty Best in Show. Dizzee started 2013 with an All Breeds Best in Show so is now our third home bred All Breeds Best in Show winner (two from the same litter and all sired by Jake). In June 2013 Dizzee gained enough points to become a Grand Champion and also enough Best in Group wins to be a Supreme Champion. In March 2014 Simmer gained the final points for her Grand Champion title. 2014 saw another title for this litter with Bonnie, Stylwise the Fray, earning her PT. 2016 saw Simmer gain the final four group wins to become a Supreme Champion.

In March 2012, Riot, Gr Ch Briarmist Glenfiddich & Mojo, Ch Stylwise Mojito HIC became the proud parents to a litter of 6 black and white puppies. Three bitches and three dogs. Three of these babies, Bentley, Dory & Tilly, will be shown with Bentley concentrating on an agility career when he is old enough. In 2014 Dory, Ch Stylwise Drunk N Fabulous gained her championship title and Bentley, Stylwise Drunk N Bentley RN HT gained his novice rally and herding test title. Bentley has also titled in CCD & SPD with Dory and Tilly gaining their neuter champion titles.
2014 sees the arrival of our new brown boy from the US. Devlin, Aust Sup & Am Ch Spiritwood's Radagast The Brown, was bred by Jim & Sheila Larsen and will be co-owned by Mark Bettis in Australia. He brings some new bloodlines for us but still has a lovely American x English pedigree that blends well with Dizzee. With a pedigree boasting some of my favourite Beardies of all time, we can't wait to see what our next litter of puppies grows up like. Thanks to Sheila, Jim & Mark for giving us this handsome young man. Dev gained his Australian championship title quickly with many wins along the way including an All Breeds Best in Show. Dev has since won many more All Breeds Best in Shows and a Specialty Best in Show, and in 2016 earnt his Supreme Champion title at just three years old.

2015 gave us our long awaited Dev and Dizzee litter (Aust Sup & Am Ch Spiritwood's Radagast The Brown x Sup Ch Stylwise Dizzee Rascal). Charleston, Ch Stylwise Mess Is Mine and Sia, Ch Stylwise Elastic Heart are staying at Stylwise and already winning ribbons including a Best in Specialty win for Charlie in 2017. Meanwhile, Blue, Floyd, Ozzie, Jerry and Pepsi are living with their wonderful new owners.
2018 was time for a frozen semen litter by my first Beardie, Jake to the pretty Sia (Ch Burnhardt Logans Mark ET x Ch Stylwise Elastic Heart). This litter provided us with 3 black boys and 1 black girl. Polly, Ch Stylwise No Apologies, stayed at Stylwise, Looker, Stylwise Look Out Here I Come, went to Irving Diamond kennels in Japan, Wilson went to our friend Jan to live with his cousin Bentley and Benji went to live in Sydney's northern beaches with his lovely family.
In 2021 we are planning a litter out of Riot and Sia (Grand Ch Briarmist Glenfiddich x Ch Stylwise Elastic Heart) via frozen semen. This breeding will combine some lovely imports from Canada, USA & UK in the pedigree and we are excited to see these puppies.

I have been a member of the Bearded Collie Club of NSW since 1997 and was Vice President 2006-2011 and general comittee until 2017. I am also currently the Treasurer of the ACT & District Combined Collie & Shetland Sheepdog Club. I am ANKC qualified to Judge Group 5, Working Dogs (Herding in the US or Pastoral in the UK), Group 3, Gundogs and Group 6, Utility. My first appointment was in July of 2012. I am currently studying the Hound group.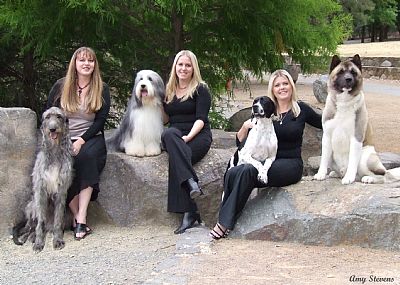 MY FAMILY

My two older sisters also breed and exhibit pedigree dogs.
Tabatha breeds English Pointers and Akitas under the 'Daykeyne' prefix. Tab also handled the #1 Cavalier in the country for many years. She is now an All Breeds Judge. Tabatha and her husband Mark, are currently residing in the USA exhibiting dogs professionally.

Melanie has record breaking Deerhounds under the 'Fyrth' prefix. She has also owned/bred American Cockers, GSP's and a Doberman. Mel's daughter Aeryn is a regular at shows and loves helping to brush the Beardies.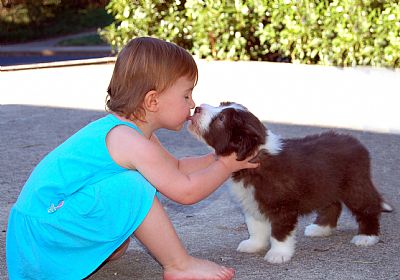 My Grandmother, Sylvia Dakin, bred and exhibited American Cockers under the 'Roanbrae' prefix for nearly thirty years. Nanna Dakin passed away in November 2013 and is missed by many in the dog world.
My mother, Linda Buckley, has bred English Cockers under the 'Daykeyne' prefix for more than thirty years. Now an All Breeds Judge, Mum spends a lot of time judging but still goes to shows with the Akitas bred under the 'Blaqaviar' prefix.